Claire Mealor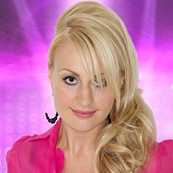 23 year old Claire lives with her boyfriend Kirk in Warfield, in Berkshire. Her mum Diane and self-employed mechanical engineer dad David live nearby.
By day Claire works as a makeup artist at Boots and in the evening as a barmaid at a local pub. When she's not at work, Claire travels to London as often as possible to audition for "anything and everything" she can.
At school Claire was fairly academic and at one stage dreamt of becoming an accountant. She took dancing lessons from about the age of four but gave up dancing at 14 to channel all her energy into her first love - ice-skating.
As a teenager Claire was "very fat" and was often bullied about her weight. When Claire reached sixth form, she threw herself into a gruelling fitness regime and strict diet. Claire realized she might be pushing herself a bit too hard and decided to reduce the severity of her regime.
It was not until the age of 18 that Claire took her first singing lesson. While practising piano in the school music room one lunch time, a passing music teacher heard her and said she had a natural talent for classical singing. Within two months she had already taken her Grade 8 singing exam and won two awards. Today Claire is a highly trained classical singer and has also trained in musical theatre which is her big passion.