Marie McGonigle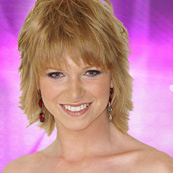 Bright, bubbly 23 year old Marie is proud to say that she's from "a family of gingers". She lives at home in Kent with her mum Caroline, dad Michael and twin brother David. Marie also has an elder brother who's just had his third child.
Marie doesn't have a permanent job but does a range of 'helping out jobs' to bring in money. These include working with her mum at a college for people with learning disabilities, teaching dance to primary school children and helping out at a local theatre.
Marie is from a very supportive and musical family. Her mother and father both play the piano and all the men in her family play the guitar. Marie loves music and grew up listening to Jimi Hendrix, the Doors, and the Beatles. Her father has always played in pub bands so performing is something she has grown up around. Marie herself writes songs, plays keyboards and sings in a band with her twin brother and a friend.
Marie got into dancing when her mum took her and her twin brother along to ballet lessons when she was just three. In 2005 Marie left Masters College in Kent after studying performing arts and majoring in dance.
Marie has been in a relationship with 22 year old old biker Dan for two and a half years. Dan is very supportive of her chosen career path and just wants her to do well and be happy!