Marquelle Ward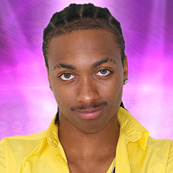 23 year old Marcquelle lives alone, having recently flown the nest and moved out of his mother's house in Manchester. But his mum Angella's always the first person he's on the phone to. Indeed, his mum was initially cross with Marcquelle as he was supposed to take her shopping on the day of his audition!
Marcquelle says that his mum always helps keep his feet on the ground but she is also prone to bragging about her son on the phone to her friends! She always told him to have a back-up plan in-case his desire to work in entertainment failed, and he has a degree in Business Finance as his 'fallback'.
Marcquelle has three sisters Marsh, Bhrianna and Ebony. Marcquelle's single, but doesn't hide from the fact he's popular with women.
Marcquelle's always wanted to be in entertainment and recently has been working as a model for JD sports. He's also a keen basketball player and has done some promos for Nike and won numerous basketball competitions. He's also worked as a sales assistant and in a bar. But entertaining is the only thing he's ever wanted to do.
He first began dancing two years ago to impress a girl (and it worked!). Marcquelle has a large range of dancing experience including performances at Party In The Park, Notting Hill Carnival and even a Geri Halliwell concert at G.A.Y. However, he's never won a dance competition in his life, and is desperate to make Dance X his first.